The Workers United Retirees Association
The Workers United Retirees Association makes it possible for you to retire from your job and stay with your union.
The Workers United Retirees Association is an international network of union retirees throughout the United States and Canada dedicated to fighting for working families and improving the lives of retirees. Our association advocates for issues affecting retirees, such as healthcare, prescription drugs, retirement security, pension benefits, Social Security and Medicare. The years of experience our retirees have as union activists, make them the most qualified to advocate and protect the interest of union retirees and working families.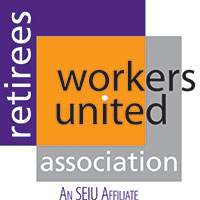 Our Workers United Retirees Association members are organized into regional assemblies and local retiree chapters. In the retiree chapters, our members meet monthly and organize social and political activities. Our retiree chapter members plan fun outings to local plays, festivals and casinos. They also keep chapter members informed about legislation that would affect them as seniors of the union. Retirees rally against any legislation that aims to make benefit cuts to Social Security, Medicare or workers' rights.
Our retired union members are instrumental in:
Building political power through getting out the union vote, lobbying elected officials, and participating in rallies.
Writing letters to members of Congress and their local newspapers to advocate for bills that improve the standard of living for retirees and working families.
Through the Workers United Retirees Association, retiree clubs and chapters, our members enrich their retirement years by participating in social activities, being a part of an international network of retirees, and by staying active politically.
MISSION
The Workers United Retirees Association mission is to inspire, organize and build a robust retiree organization to help address the concerns of our retirees and union. Retirees are a progressive force of tremendous power and wisdom that fuels the labor movement. In this effort, our association provides tools and resources for Workers United retirees to be change agents that will lead their communities into a world that values the contributions of our union and seniors.
We strive: For a world that supports retirement security, economic justice and equality.
To meet the needs of present and future retirees.
Protect the rights they have earned and continue to fight for a better tomorrow.
We are union strong, providing stability, focus and solidarity.
VISION
The Workers United Retirees Association envisions an equal and just society for all. A society where seniors can retire with dignity and workers can earn an honest wage for an honest day's work.
We are the best qualified.
As an organization of retired members dedicated to the union, with our experience, we are the best qualified to engage retirees and spur them into action.
Union Strong Retirees
To build retiree chapters and engage the membership in all of our regions.
Build a Movement
To build a movement of retiree leaders and activists that are ready to educate, mobilize and empower the retiree population by creating strategic partnerships to ensure economic justice, human rights and secure retirement for all.
SONG
Look for the union label
when you are buying that coat, dress or blouse.
Remember somewhere our union's sewing,
our wages going to feed the kids, and run the house.
We work hard, but who's complaining?
Thanks to the I.L.G. we're paying our way!
So always look for the union label,
it says we're able to make it in the U.S.A.!
Updated Aug 19, 2016