BREAKING:
SEIU President Mary Kay Henry was just named one of TIME's 100 Most Influential People of 2020
Read More
#MyVoteIsEssential
We're voting to be safe at work, welcome immigrants, act on climate change & for $15/hr, a union & Black lives. Our work is essential & so are our votes.
Join Us
We are the Service Employees International Union (SEIU), a union of about 2 million diverse members in healthcare, the public sector and property services who believe in and fight for our Vision for a Just Society: where all workers are valued and all people respected—no matter where we come from or what color we are; where all families and communities can thrive; and where we leave a better and more equitable world for generations to come.
Join the fight for economic and racial justice.
Add your name here.
2020 Election:
Our Worker Voices Are Front & Center
Workers united in SEIU and the Fight for $15 and a Union worked together tirelessly over the past year, ahead of the 2020 presidential election, to lift their voices and fight hard for justice in our workplaces, communities and democracy. Together, we demanded the right for all workers—regardless of job, race or zip code—to join together in a union. This week, at the Democratic National Convention, that work will be on display. We raised our voices and they heard us. 

SEIU members are working together to demand economic and racial justice and hold politicians accountable to working people. Visit SEIU 2020 to learn about our Unions for All agenda, compare candidates, watch videos, make your voice heard, and find resources for activism in the presidential election.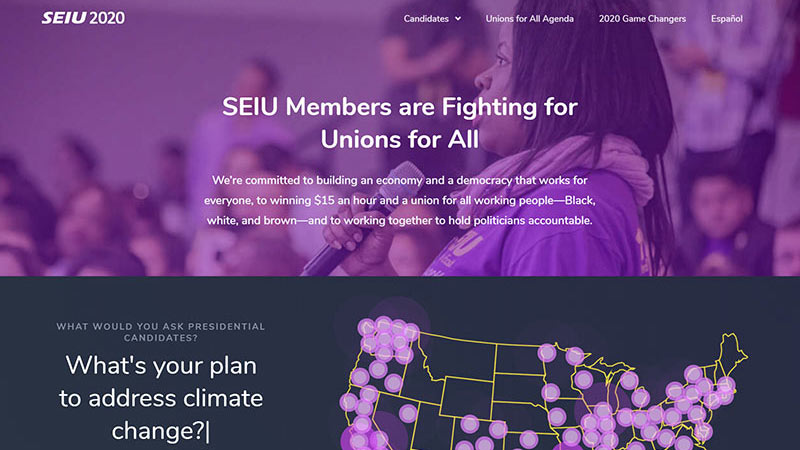 Visit website
Stories from the Frontline