Fact Check on Public Employees' Pensions
FACT CHECK: How big are the pensions that public sector workers collect?
Seven out of 10 public employees get less than $30,000 per year in retirement.
An example of this is SEIU Local 1000 state workers in California, who receive an average retirement pay of $28,755 per year. This is hardly a king's ransom--and many get by on much less.
After decades of full-time work for the state, the sad truth is that far too many retired state employees receive yearly amounts that force them to live in poverty.
FACT CHECK: Are taxpayers the ones who foot the bill for public workers' pensions?
In a word, no. The modest amount the average public worker takes home is covered largely through investment returns--not the emptying of taxpayers' pockets. Public employees themselves contribute an average of 40 percent of non-investment contributions to their own retirement. (See Pew Report, page 10)
FACT CHECK: How financially viable are pensions?
Pensions have been financially viable for 70 years and were on solid financial ground until the stock market crash. The National Institute on Retirement Security elaborates a bit further:
Like all investors, pension funds experienced investment losses during the market downturn. A careful examination of the data also tells us that most states have funded their promised benefits in a fiscally responsible manner. An average of 88% of the annual required contribution was paid by the largest state and local retirement systems in the country in 2008.

As the market recovers, we find that pension funds are recovering losses and that filling the gap will be manageable. [...] Because funding of public pensions typically is a shared responsibility, just a one percent increase in contributions from employers and employees would fill the gap. [More]
Pensions do so well that most of the pension dollars (in California for example, 75 cents of every dollar) paid to teachers, firefighters, and school employees comes from investment earnings, not contributions by government.
FACT CHECK: Are unions opposed to any changes in pension plans?
Here's what we know: Public retirement plans must change with the times to continue serving both workers and taxpayers. In an ideal world, governments would always perfectly serve the public interest and never put today's costs (i.e. contributing to workers' pensions) off until tomorrow. However, we live in the real world--a world that, for most of us, doesn't include owning our own Gulfstream G550 jet or having homes in New York, East Hampton and Aspen.
Either workers will pay for the crisis, or the corporate-elite will. We need to fight to pass legislation that protects the investments of workers and taxpayers. "Our public retirement system needs to be fixed, not destroyed. Common sense should prevail when it comes to ensuring the strength of retirement plans for state employees, teachers, police officers and firefighters," writes SEIU Local 1000 President Yvonne Walker in an op-ed in the San Francisco Chronicle. "For our retirement system to survive and thrive, we need cool down the rhetoric, look at the cold, hard facts and work together toward a common purpose."
The Bottom Line: Stripping away the pension benefits of people who are first responders in our communities will not solve our budget problems. If we need to cut costs further, we should find ways to eliminate waste, fraud, and sweetheart deals for government contractors instead of instead of making it harder for retirees to get by.
FACT CHECK: Are unions the driving force behind underfunded public pensions?
The internet is full of unsubstantiated claims about how local, state, and federal employees who belong to public employee unions are pushing states into fiscal crisis. Yet as research published by the Center for Economic and Policy Research shows (see graph below), there is zero correlation between the degree of state employee unionization and how well-funded state plans are.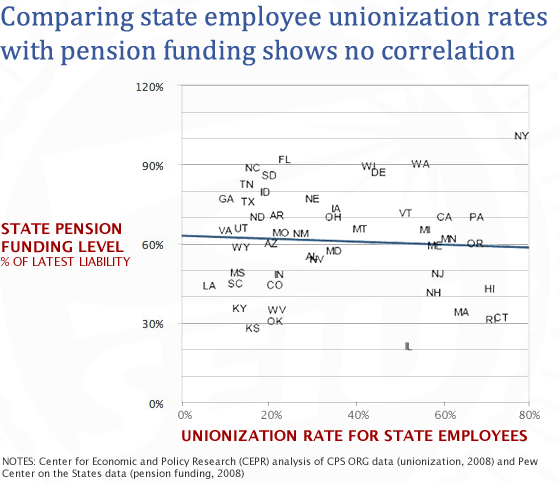 Budgetary factors quite unrelated to the level of public employee unionization are the main factors in how well states pre-fund their pension obligations. And unfortunately for public sector workers, many states have not kept up their end of their end of the bargain. For example, in Illinois, the state has set aside just over half (54 percent) of the amount required to pay workers' benefits statewide, and the state's five pension funds are $54.4 billion short.
U.S. News & World Report publishing billionaire Mort Zuckerman reasons that since private-sector pay and benefits are dropping, public-employee pay and benefits should, too. "Are Public Employee Unions Strangling Us?" is blogger Dave Johnson's response to this, concluding,
"The obvious answer is for more private-sector workers around the world to join unions so they can be lifted up, not to complete the death spiral by forcing down the pay of the rest of us."
More Fact Check Resources
» More truths on public employees' pensions at ProgressiveStates.org here.
BLOG POSTS: