Making Politics Work for the 99%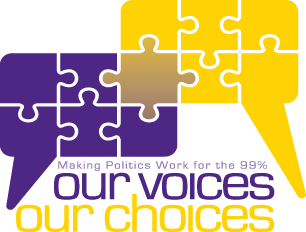 SEIU's Our Voices, Our Choices
campaign is not about one election, candidate or political party. It is about winning this November 6 with a mandate for our elected officials to push an agenda that works for us, the 99%.
Take Action
SEIU's 99% Agenda
Good Jobs Now
Everyone Pays Their Fair Share
Comprehensive Immigration Reform
No Cuts to Vital Services
Stories From The Field
For me, this election was about dedication to a cause, and hard work. And the incredible movement we can create when work together toward one unified goal. I came to Cleveland to do political work through my union. I...
Tweets by @SEIU
Obama
President Obama's Record on Creating Good Jobs - English | Spanish
---
President Obama's Record on An Economy Where Everyone Pays Their Fair Share - English | Spanish
---
President Obama's Record on Improving Opportunities for Latino Families - English | Spanish
---
President Obama's Record on Investing in Critical Public Services and Healthcare - English | Spanish
---
Romney
How Mitt Romney Feels About Creating Good Jobs Now - English | Spanish
---
How Mitt Romney Feels About An Economy Where Everyone Pays Their Fair Share - English | Spanish
---
How Mitt Romney Feels About Improving Opportunities for Latino Families - English | Spanish
---
How Mitt Romney Feels About Investing in Healthcare and Critical Public Services - English | Spanish
---