2015 was a remarkable year when our movement made great progress on our journey to a just society, where all work is valued, and all people respected.
With your help, we have reached a milestone on our journey: $15 an hour has gone from a slogan to a benchmark.
The Wage Board in New York set a $15 minimum wage for fast-food employees all across the state. That will free up a billion dollars that can now be invested in the good jobs that New York needs.
We won $15 in Los Angeles—both the city and the county.
Home care providers won $15 in Massachusetts, Oregon and Washington.
Healthcare professionals won $15 at Swedish Medical Center in Washington.
Airport staff secured their $15 victory at Sea-Tac.
Nursing home employees in Connecticut and Massachusetts won $15.
Retirement Security: Illinois and Oregon became the latest states to enact state-based retirement plans for working people without access to employer-sponsored retirement plans, receiving backing from the Department of Labor which issued guidelines in late 2015.
Sick leave: Oregon and Pittsburgh passed legislation requiring employers to provide paid sick leave to employees.
Airports: By sticking together, speaking out for change, fasting and going on strike, airport workers won wage increases in Los Angeles, New York City, Newark, N.J., Minneapolis, Boston, Philadelphia and Fort Lauderdale. More than 70,000 airport staff nationwide have either received wage increases or other improvements, including healthcare, paid sick leave and worker retention policies.
Laundry: As part of the CLEAN Philly campaign, Olympic Linen employees, tired of wage theft and being paid below the minimum wage, joined together and filed a lawsuit against the employer. The allegations motivated the federal government to act; the U.S. Department of Labor sued Olympic Linen last March over violations of the FLSA demanding the employer pay the wages back to its employees.
Stand for Security: 50,000 security officers have united in SEIU to ensure quality training, healthcare and sustainable wages for our communities. Security officers in Pittsburgh, Indianapolis and Sacramento, Calif., joined together to win new unions and Silicon Valley security officers won big when Facebook announced a new $15 minimum with a new-parent benefit for subcontracted staff.
Affordable Care Act: The U.S. Supreme Court decision in King v. Burwell that upheld tax credits so 8 million Americans could keep their affordable health coverage sent a strong message to extremists that the Affordable Care Act (ACA) is here to stay. Thanks to the ACA, no one can be denied coverage because of a pre-existing condition and more families are receiving preventive care services.
Higher Education: Professors across the country are continuing to join the Faculty Forward campaign, which nationally has united more than 10,000 faculty members over the last three years. The year was capped by a bellwether victory for faculty at the University of Chicago, who joined professors at Boston University, Tufts, Washington University in St. Louis, and Brandeis University in uniting in SEIU.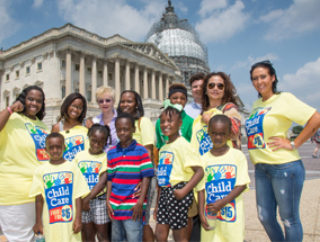 Child Care: Child care providers, parents, and supporters re-energized the child care reform movement April 15 by joining the Fight for $15. Rhode Island family child care providers unanimously ratified their first-ever collective bargaining agreement, and in California, family child care providers won across-the-board rate increases.
SEIU Members joined Pope Francis: Thousand of SEIU members joined the pope in person and online supporting his call to find dignity in work.
Join us in continuing to create a more just society by pledging to support issues that affect our communities.
This year we also experienced tragedy in San Bernardino, Calif., when attackers shot and wounded SEIU 721 members. Our hearts and prayers continue to be with the victims and survivors of this horrific event. Contributions to support the families of our fallen and injured brothers and sisters are being accepted at: http://www.laborcommunityservicesla.org/