In 2017, SEIU members rose up and joined together to resist attacks on working families and began to drive a turnaround that will bring incredible victories in the new year. As we look toward 2018, we reflect on the incredible power of working people united in a union and we remain committed to stand together for a better future for all families.
Healthcare
Extremists in Congress made repeated attempts to eliminate affordable healthcare coverage through the Affordable Care Act to the advantage of insurance companies' bottom lines. Thousands of SEIU members and other working people called Republicans in Congress and flooded town hall meetings to make their voices heard against any healthcare bill that rips coverage away from working families or destroys the Medicaid program that funds the care SEIU members provide to seniors, people with disabilities and children.
Immigration
SEIU members, immigrants and working people across the country are fed up with the continuous attacks from anti-worker and anti-immigrant politicians. Together we are taking action to resist the politics of hate and push for better wages so we can support our families and protect immigrant communities. In 2017, we:
came together to block President Trump's attempt to stop cities, counties and states from having welcoming policies for immigrant communities.
rose up at airports across the country to fight back against President Trump's hateful Muslim Ban.
united with huge waves of new activists to fight for an America where immigrant contributions are valued and respected.
supported naturalization efforts that resulted in over 1 million people applying to become US citizens.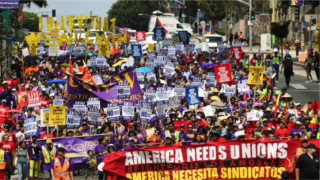 Labor Day: Why America Needs Unions
Throughout the country, SEIU members, workers in the Fight for $15 movement, other union members, and community allies spoke out together on Labor Day about how important unions are for raising wages and making the economy work for everyone, not just the wealthy few.
Nearly 100 members from SEIU 775, 1199SEIU United Healthcare Workers East, SEIU-UHW, SEIU Healthcare 1199NW, SEIU-USWW, 32BJ SEIU, and SEIU 503 volunteered to speak with nonunion working people in six cities in the Midwest during the run-up to Labor Day, strengthening the outreach and helping tell the public about the "America Needs Unions" day of action.

Cathy Glasson, a nurse and SEIU leader in Iowa who is running for governor, led a rally with fast food workers who went on strike for $15 wages. Other candidates for public office across key battleground states marched and spoke at rallies. SEIU members, elected officials, wrote op-eds calling for changes that make it easier for working Americans to join together in unions. More than ever, working families want to gain the power in numbers that unions create so they can make their jobs better.
Security
With more than 60,000 union security officers standing strong, we are winning across the country!
In Portland, Oregon, security officers ratified a new union contract that improved wages and secured important healthcare coverage.
Across Columbus, Ohio, security workers ratified their first union contract, putting them on the path to better wages and benefits.
New Jersey security officers fought and won strong contracts that set standards and protected key rights on the job.
Security officers in San Francisco Bay Area and Los Angeles stuck together and won big bargaining victories in healthcare and pay raises.
Thousands of security officers in Silicon Valley won their union and are currently fighting to bargain their first contract for much-needed wage increases and respect at work.
Childcare
SEIU members pushed Congress to introduce the Child Care For Working Families Act which promises to make childcare for all a reality for working families.
Higher Ed
Faculty unions have raised the standards at colleges and universities across America and are continuing to prove that unions work. The power of joining together in a union is visible in their 2017 numbers.
1,400+ graduate workers organized.
Over 5,500 faculty and graduate workers joined Faculty Forward in 2017.
Nearly 20,000 faculty have joined the Faculty Forward movement since 2013.
Faculty Forward is now 53,000+ strong.
Faculty Forward is now on 50+ campuses across the country.
Faculty Forward won recognition at 9 schools in 2017 -- five faculty units and four grad worker units.
At 1,700, the Broward College unit is SEIU's largest bargaining unit of contingent faculty in the country.
Racial Justice
After white supremacists violently attacked protesters in Charlottesville, VA, SEIU members took to the streets in rallies and protests. United with allies, SEIU members spoke out in opposition to the destructive ideology of white supremacy, supported calls for President Trump to remove white supremacists from the White House and raised their voices against our rigged economic and democratic systems.

Airports
Across the country contracted airport workers are winning raises and their union, while holding powerful airline corporations accountable. Since airport workers began joining together and speaking out, over 25,000 airport workers have won their union with SEIU, while 118,000 workers have won raises or other improvements. In 2017 alone, nearly 15,000 airport workers won raises with many also winning their union in major airports like Chicago, Philadelphia and Washington D.C.
Through Airport Workers United, working families are continuing to fight for better jobs, increased training, and safer airports. Los Angeles International airport is the first airport in the country to implement a fully-defined emergency response program, while airport workers across the country are demanding similar programs.
Climate Justice
Working families, especially in communities of color, disproportionately experience the toll of environmental injustices. When self-interested politicians pushed policies that threatened the air we breath and water we drink, SEIU members gathered in cities across America, as a part of the Climate March, to demand a clean economy and environment for generations to come.
Justice for Workers
When anti-worker fast-food CEO Andy Puzder was nominated for secretary of Labor, working families fought back with phone calls and rallies in the streets. The fearlessness and courage of working people defeated his nomination.