SEIU NURSE ALLIANCE ROUNDUP February 17, 2017
Dear Colleague,
With so many frustrated with the direction our country is headed, it's been heartening to stand up and speak out alongside thousands of SEIU members from coast-to-coast.
Recently, I had the good fortune to join other members of the Nurse Alliance Leadership Council to stand with House Minority Leader Nancy Pelosi at a press conference in January. We shared our fears of what could happen to our patients, our loved ones, and our hospitals if extremists repeal healthcare and slash Medicaid funding.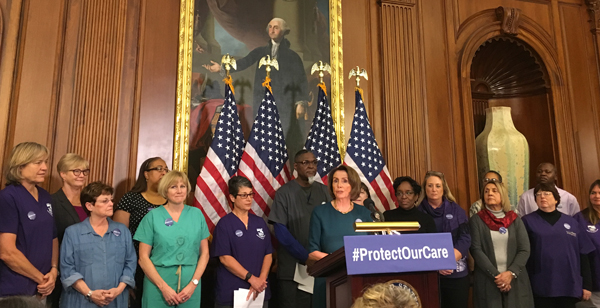 Watch full press conference of SEIU nurses with House Minority Leader Nancy Pelosi here
On healthcare security "My son was born with a heart defect that required lifesaving cardiac surgery. Our insurance didn't cover all that was needed to diagnose and treat him--but not giving him the care he needed was not an option. We ended up putting his heart catheterizations, echocardiograms and doctors' visits on our credit cards. We always paid what we could, but those charges and mounting medical bills after years and years became more than we could ever repay in several lifetimes. We had no other choice but to file for bankruptcy." --Cathy Stoddard, RN, SEIU Healthcare Pennsylvania
On safety net hospitals "Not too long ago, Jackson Memorial's emergency room was consistently flooded with individuals who lacked healthcare coverage and relied on emergency medicine for primary care. We can't turn anyone away, but emergency medicine costs five times more than care at a doctor's office. Far too often uninsured individuals can't afford out-of-pocket charges that can easily exceed a month's rent."
--Vicki Gonzalez, RN, SEIU Local 1991
Care, not chaos "Before rushing to rip apart our healthcare system, President Trump and Republicans in Congress owe us a real plan to make it better. My patients' lives are on the line. Don't dare take their care away." --Michael Collins, RN, SEIU Local 1107
I also committed that the 80,000 registered nurses of the Nurse Alliance are "ready to ask the hard questions needed to make sure any proposal that is offered doesn't take away care that Americans are counting on, doesn't increase healthcare costs for hardworking women and men, doesn't allow corporations to drop coverage for their employees, doesn't raise taxes on the middle class, doesn't risk care for seniors, children and people with disabilities, and doesn't leave our patients to fend for themselves."
SEIU nurses, are you up to the challenge?
In Unity, Dian Palmer, RN Chair, Nurse Alliance of SEIU Healthcare
Quality, Affordable Healthcare at Risk
SEIU nurses have been on the front lines in the latest fight to defend affordable healthcare.
Affordable healthcare a must in Florida, Miami Herald, Feb. 10 Martha Baker, SEIU Local 1991 president and registered nurse, penned this op-ed describing what's at stake for Jackson Memorial, the largest hospital in the state, and the communities it serves, if healthcare is taken away from 2 million Americans.
10 questions Congress must answer for me and my cancer patients. Today., SEIU.org blog Cathy Stoddard, SEIU Healthcare Pennsylvania nurse member, lists 10 basic questions Congress must answer about any replacement plan it proposes.
My patients can't afford the cost of Tom Price, Press Statement, Feb. 1 This statement by Vanessa Patricelli, an orthopedic trauma nurse and member of SEIU Healthcare 1199NW, was issued after the Senate Finance Committee's vote on Rep. Tom Price as Health and Human Services secretary. (Price was later confirmed by the full Senate and has been sworn in to serve in this critical healthcare post.)
Obamacare's unlikely defenders, The Atlantic, Feb. 3 SEIU nurses Diane Sosne and Vanessa Patricelli of SEIU Healthcare 1199NW and Michael Collins of SEIU Local 1107 joined healthcare workers, faith leaders, and concerned moms and dads in Washington, D.C., to visit senators' offices and demand a real plan to keep millions of Americans covered. Nonviolent civil disobedience outside Sen. Hatch's office resulted in nearly 50 arrests.
Hear stories and check out the action in this video.
I'm a nurse and I'm terrified of what Republicans are planning to do to Medicaid, Washington Post, Jan. 24 Rita Lewis, a member of SEIU Local 1000 in California, underscores in this Washington Post op-ed how Medicaid has helped patients in her 25-year nursing career become more financially stable, reduced coverage disparities, and allowed people to get healthy and go back to work. Now all that is at risk under current proposals to slash Medicaid.
Seeking Justice
Iowa lawmakers get an earful on collective bargaining bills, The Gazette, Feb. 13 Hardworking Iowans, including SEIU nurses, are standing up to legislation that would drastically limit the union voice of most public workers in the state. "I'm more comfortable saving lives than testifying," said Lynnette Halstead of Marion, a registered nurse at University of Iowa Hospitals and Clinics and member of SEIU Local 199, who spoke on behalf of her co-workers and fellow union members who feel the system is rigged against them.
Trump's executive order left SEIU Committee of Interns and Residents member stranded away from home, patients Despite all they have contributed to our great nation, our health and our economy, immigrant healthcare professionals including SEIU resident physician Dr. Kamal Fadlalla, were turned away from their home and their patients--or otherwise live in fear--after President Trump issued his extremist anti-immigrant executive order. Watch his heartwarming homecoming when he returned home to Brooklyn, N.Y., and his patients here.
What We're Reading
Before pulling the plug on Obamacare, listen to healthcare providers, STAT News, Jan. 23 Rebecca Kolins Givens, a friend to SEIU nurses and Rutgers associate professor, wrote a piece on why front-line healthcare workers are best positioned to evaluate what is working in the healthcare system and what needs improvement. "Clinical professionals understand the strengths and weaknesses of the law because they've had to live and work within the requirements of the Affordable Care Act."
Quick Links

The Nurse Alliance Roundup is online! Want to see past issues of the Nurse Alliance Roundup?
Copyright © 2017 Nurse Alliance of SEIU Healthcare
800 Massachusetts Avenue NW, Washington, DC 20036

Click Here to Share the Roundup
Friend us on Facebook
Follow us on Twitter