At a time when working people are facing challenges on all fronts - the ability to support a family, drink clean water and breathe clean air, go to the doctor when you're sick, and cast a vote at the ballot box - the reality of fighting structural racism may seem to some as if we are tackling issues from the past. The violent terrorist attacks last weekend in Charlottesville, Virginia by white supremacists have raised our consciousness. The facts remain, structural racism and white supremacy are still major issues impacting working families and we must remain vigilant in our fight against it.
Since the attacks, SEIU members have been protesting and showing the strength that comes from coming together in a union to stand up against the destructive ideology of white supremacy and our rigged economic and democratic systems that hurt all working people, including white people.
These are the stories of some of the SEIU members that are speaking up and showing up at rallies to fight back against white supremacy.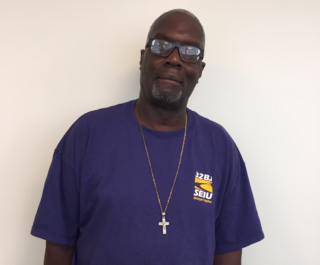 "Racism affects all of our lives"

When I heard about the hateful attacks in Charlottesville, I was at a jazz concert with my mom. My first reaction was disbelief, I couldn't believe this was happening but then I moved to a sense of knowing it's possible. This is what happens when dangerous groups like the Klu Klux Klan (KKK) are allowed to openly display their hate.
My grandmother was raised in South Carolina during the 1930's. She told me stories about the KKK and I was raised knowing how they terrorize communities. I never thought, in my lifetime, that I would witness first-hand their hate on display as she described it.
Today, I'm not as worried when I see people making hateful speeches as I am when I think about the people that use this type of thinking to control legislation and policy. I'm worried about what happens when they go back to work. How does white supremacy impact the lives of the people around them? We need to get rid of any white supremacists in the White House. This madness has to stop. This isn't what America stands for.
Racism affects all of our lives and we need our union in the fight against it. I'm proud to be a part of a diverse union membership with diverse leaders who are willing to stand with us in the fight against it. We stand as one.
"We aren't going back to that."
I have family in Charlottesville so I have been paying attention to this issue for a while. I have been worried about their safety. It's crazy that in 2017, people are coming out without their cloaks. They don't even feel like they have to hide their hateful views.
I have two boys that are 9 and 14. Incidents like this make me fear for their safety more. I don't want my boys to be called the "n-word". I don't want them to miss out on opportunities because they are Black. It's as if history is repeating itself.
I came out to make sure we are heard too. We aren't going back to that. Usually, I bring my boys to union events. I want them to know the power of joining a union, but I didn't bring them tonight. The events in Charlottesville made me scared.
My grandmother marched in Selma, Alabama with Dr. King for voting rights. My family lived through Jim Crow. We cannot have white supremacist in the White House helping to create legislation. We must take a stand together. It's going to take all of us together to successfully fight back.
"If we are silent, we are complicit."
I was raised in the tradition of unions. My grandmother was a member of International Ladies' Garment Workers'. I know the power of working people coming together to speak up for themselves, their families, and others. When we unite, we can win in our workplaces and we can win in society.
I have grown angry and concerned as I have witnessed hate groups become more emboldened. I cannot sit at home on my couch and let this continue to happen so when I heard about the rally in Philadelphia, I knew that I had to go stand in solidarity with my brothers and sisters in the union.
The President's actions since Charlottesville are contemptible. They feel like a wink and a nod to these hateful people. It's anti-American. A rollback to before the 21st century.
Unions must make it a building block or core principle that we don't tolerate discrimination of any kind internally or externally. We must work against anti-Black racism, anti-Semitism, the disrespect of women and acts against the LGBTQ community. If we tolerate it against one group, it won't be long before they come after your group. If we are silent, we are complicit.
"They will ignore what working people need."
President Trump's response to the attacks in Charlottesville was inadequate. I don't feel like he stood up for all working people. He needs to look out for all of us.
Fighting anti-Black racism isn't political. It's something that affects our lives.
In our union, we have Black people, white people, Asians, Latinos, and Native Americans. We have everybody. We have to stick together at work and when things like this happen. If we don't, they will have us fighting each other while self-interested politicians take care of themselves and the rich. They will ignore what working people need.
"My union has my back"

What happened in Charlottesville could easily happen in Pennsylvania. Especially when the current President tells law enforcement that it is OK to be rough with us and has offered to pay the legal bills of people who are violent at his rallies. I feel that he is condoning violence against my community.
We need to take a stand against this. If we don't they will do whatever they want to us.
When I come to rallies, I often wish there were more people of color here but I understand that many people are scared. I was scared too, but then a co-worker got me involved in the union and I realized that I didn't need to be scared anymore. My union has my back and will fight with me in the workplace and beyond.
Having economic justice means freedom to me. Black people have a long history of being locked out of higher wages and other opportunities in this country. We cannot have economic justice without racial justice. We need our union backing us all up to ensure we get there.