Along with record levels of inequality came an unprecedented and powerful response from working people. Throughout 2019, from nurses and fast food workers to factory workers and school employees, we demanded better working conditions and our right to a voice through a union. We rallied, protested, marched and even went on strike to fight for good jobs and the better futures our families deserve.
And those actions resulted in big wins. Together, we're reshaping our country and demanding a fix for the rigged economy. That's why we're celebrating 2019 as the year of the worker. Check out some of the top victories working people have won by coming together to demand better this year.
85,000 Kaiser Permanente Workers Win Job Improvements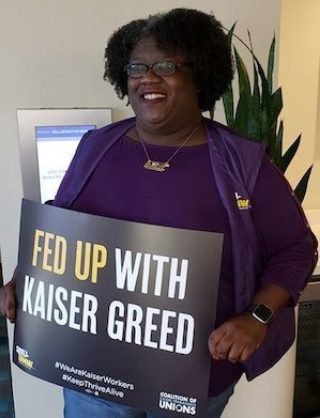 The Worker: Georgette Bradford, Ultrasound Technologist
What She Won: In September, after more than 85,000 union members employed by Kaiser Permanente voted to go on strike, they won huge gains at work. Among some of the highlights were across-the-board raises, protected health and retirement benefits, and investment in a $130 million healthcare academy to develop and sustain the healthcare workforce of the future.
The contract between Kaiser and seven unions in six states and the District of Columbia was ratified weeks later and averted a nationwide strike that was scheduled to begin October 14.
"This agreement will allow us to rebuild the worker-management partnership that has been so important to all of us in making Kaiser successful over the last 20 years," said Georgette Bradford, an SEIU-UHW member and Ultrasound Technologist in Sacramento. "Reaching an agreement was not easy, it had lots of twists and turns, but in the end we accomplished what we set out to do—reach an agreement that is good for patients, workers and our communities."